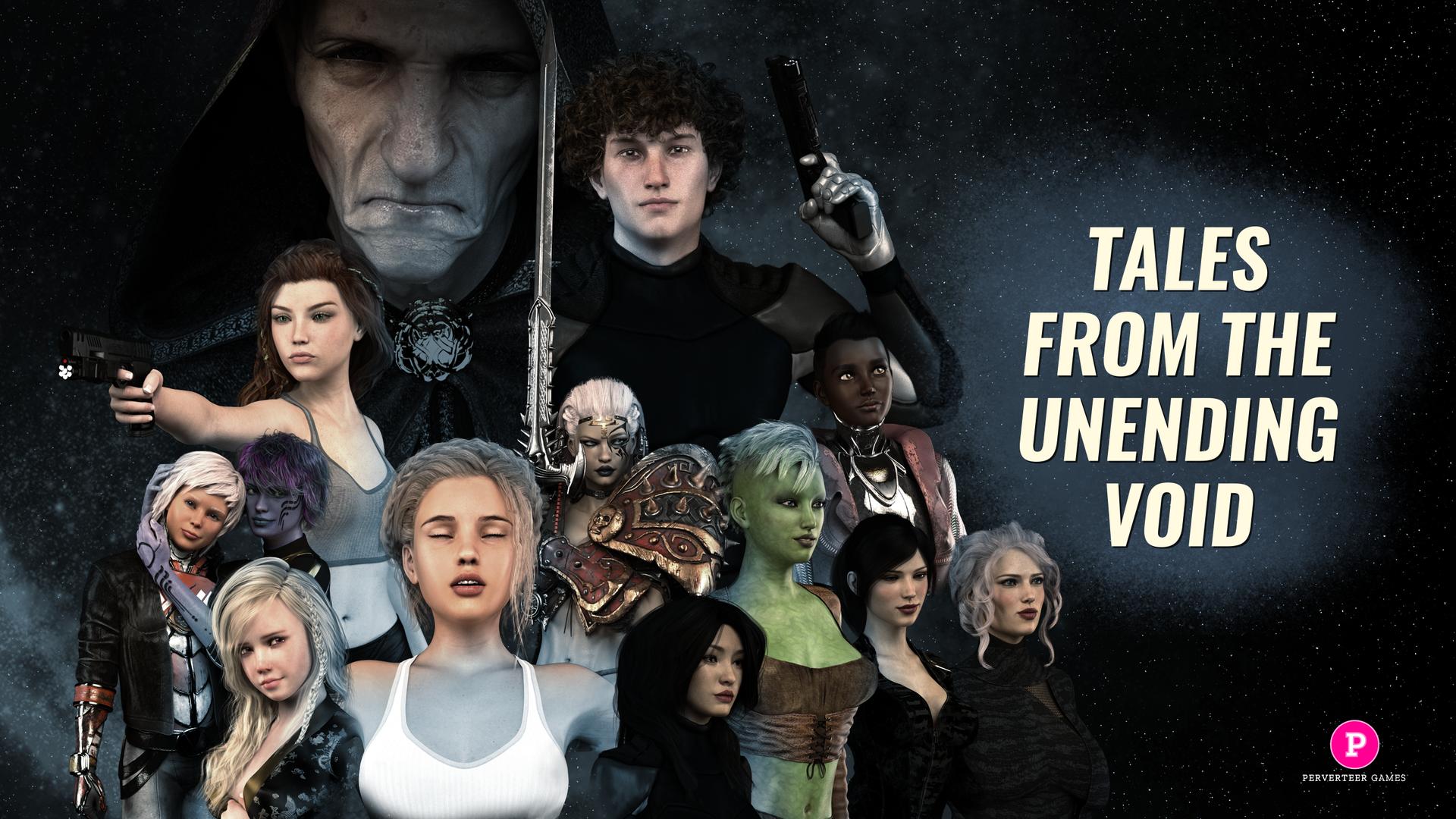 Tales From The Unending Void
Tales From The Unending Void v0.12b
---
The final episode of the first season has arrived! This release contains over 400 renders and over 25 animations (Alorth wasn't too happy about all those foursome scenes).
Thanks to Grubb, Alorth, HoboCop86, FckThisShtImOut, Fhilb, Razielprince and Zar for proofreading and testing.

NOTE: Please play until the very end of the episode if you want to continue playing the second season. Due to size issues, the next release will be a fresh game build in which you can import your season 1 save.
There's no longer a separate build for macOS. The first download works for both Windows, Linux and Mac.
Changelog
– Add Episode 12b
– Add Spanish translation (thanks to Juan Manuel, https://hotzone-18.blogspot.com/)
– Add ships to codex
– Add extra menu option (thanks to the66)
– Update Russian translation (thanks to MyPrettyWolfy)
– Remove jump to page from save/load pages on Android (thanks to dkatryl)
– Add variables to all sex scenes (might break compatibility with older saves)
– Allow more characters in input modals (thanks to Bev_)
– Use correct trigger to update say screen visibility
– Add missing static placeholder images for the animations in the web edition
– ep012a: Remove dialogue box on location screen
– ep012a: Fix spelling and grammar (thanks to lemonfreak, cxx, Krynh)
– ep012a: Remove Raene conversation from non-romance paths
– ep012a: Add conditionals (thanks to Horny Toad)
– ep011: Add conditionals (thanks to Horny Toad)
– ep010: Swap renders to fit alliance choice (thanks to Horny Toad)
– ep010: Add conditionals (thanks to Horny Toad)
– ep006: Add conditionals (thanks to Horny Toad)
– ep002: Fix timeline issue (thanks to rohang33)
Files
Season One (v0.12.1) (Free Edition, Uncensored)
2 GB
Season One (v0.12.1) (Free Edition, Uncensored)
865 MB
Get Tales From The Unending Void
Comments
Log in with itch.io to leave a comment.
any chance of Thim becoming "romancable" ?
What is the difference between phone and computer version
There's no difference other than some non-essential UI features missing from the phone version.

are you going to be going right into working on chapter 2 or are you going to take a break to work on something else?
I've already started the production of Season 2, so the wait won't be too long, hopefully.
In paid is way to free the crime boss servant jw
No, though I might revisit that particular plot thread at some point.
I know it stupid to say this but worry about people u help but didn't know if situation improved like women that oppressed where cargo was delivered and taking the other crime boss don't get me wrong this vn was fking awesome I just wonder Abt those character.cuz it was left vaugue if they were okay
More sex scenes, bonus artwork, a walkthrough and achievements.

Is paid version same as Steam version?
The paid version which will be released her is pretty much the same as on Steam, except for the cloud saves and Steam achievements.
I supported the project and bought this on Steam. Will you release season 2 episodes one by one on steam as well or will they be only on itch.io? Looking forward to it!

Thanks so much! The episodic releases will be available here. Once another season is completed it will be sold as DLC on Steam.
awsome gonna give it a replay be great so far, will be following for season 2